Mobile Applications
The use of mobile devices is increasing phenomenally. Mobile Applications (or mobile apps) are software programs that reside on the mobile phone and can be accessed by the users. There are many mobile apps on the market today - some for free and some paid. These apps are proving to be valuable for users.
Unlike HTML, which can be viewed with any browser irrespective of the operating system, mobile apps are OS specific. Android, iOS and Windows are the leading three OS today. At SmarTech MinD, we specialize in developing mobile apps using Android. Since building mobile applications is a niche market and requires considerable expertise, we have highly skilled developers in our mobile development team.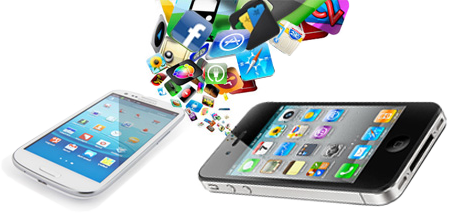 HMTL5 Applications Developmentt
HTML5 is the trend due to its incredible capabilities that benefit businesses manifolds from website designing to website applications. HTML5 is the fifth version of the language known as the language of web at the outset. In HMTL5 Mobile Application development, we are experts. We have wide-ranging and significant experience in HTML5 and porting applications. From creating HTML5 optimized web development to offline HTML mobile application.
HTML5 can be leveraged for mobile technologies and location based applications and tools. HTML5 can be used for transportation applications, gaming platforms, and entertainment domain. So the capability is endless.HTML5 is an efficient multi-platform content enabler that can create elegant applications and tools for all the mobile operating systems available today such as iOS, Android and Windows OS. Zinavo Technologies is involved in HTML5 application development across multiple domains and industries. We provide end-to-end mobile applications solutions across different industrial verticals. Our expertise and years of experience has enabled our HTML application developers and web designers to learn the new release of markup language HTML5 in no time.
Phonegap Applications Development
PhoneGap provides support for using web standards to create native applications that runs on various different mobile platforms : iPhone, Android, Blackberry, Windows Phone. PhoneGap provides an easy way to create simple mobile Applications that don't rely heavily on complex animations and other UX elements and mostly serve the purpose of being functional and do constant queries through the web. When you partner with Zinavo Technologies, your brand becomes our brand, your reputation becomes our reputation.
PhoneGap Application Development has made the clear-cut marks in the sector of cross-platform mobile application development within 5 years of inception. PhoneGap is an open source application development that is based on major web technologies, including HTML, CSS and JavaScript. All these prove that PhoneGap is the finest option in deploying cross-platform and highly-interactive web applications.
Android Applications Development
Android is the widely chosen platform for mobiel Applications development, which is used in most of the smartphones like HTC, Samsung, Sony, LG, Lenovo as well as in tablets. The Android platform is a versatile open source application development platform that provides a catalyst for businesses to launch useful and innovative mobile applications. Our Mobile Applications team of Android application developers is very knowledgeable about the work they do and experts in striking the right balance with the needs of the clients.
We at Android Mobile Application Development Company, help small businesses and start-ups to understand all the opportunities available in the mobile space and create the applications useful for their target users.We at SmarTech MinD, fuse efficient code of our Android developers with crisp graphics to make sleek Android applications worthy of your brand.
iPhone Applications Development
iPhone Application development has achieved an incredible ratio of popularity. Since iPhone Applications are very famous among smartphone users, iPhones have emerged as the latest form of computing on the go. It allows you to perform certain tasks you could only do while using your personal computer. You can surf, check emails stay connected with the world using your iPhones.
Our iPhone application development standards are high, our methods are ruthless, and our products : superior. We at SmarTech MinD, develop applications for iPhone phone. Our IPhone mobile Applications Developers are experts in developing mobile Applications and you can hire our application developers to work out your needs.